Candice Windham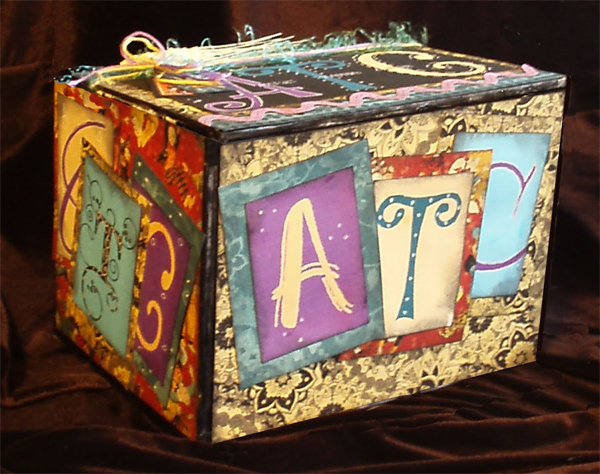 We all have them. Some people have more than others. Some are patterned. Some are solid colors. But rest assured that no matter what your craft of choice is, you're always going to have scraps…and scraps….and scraps.
Here's a little solution to eliminate some of those scraps: Go ahead and prep those smaller pieces for Artist Trading Cards (ATCs) or card backgrounds. This way, when you participate in an ATC swap or need a card or a little something to dress up a project or gift, you have it right there at your fingertips.
Artist Trading Cards have been a round for a while, so much that some folks have forgotten the ATC rules.  Size: 2.5" x3.5" Restrictions: ATCs are just what the name says: Artist TRADING Cards, not Artist SELLING Cards. ATCs developed among artistic groups as a way to have a little piece of art from your colleagues without a huge monetary investment. Each artist would create mini-masterpieces, then swap them with their artsy friends.
I love this box size and shape. I love it so much that I have several around my studio, holding different things, and therein lies the problem: I spent more time trying to find the one with ATC sized cards than it actually takes to cut the paper to size.
Duetica to the rescue! I love all the Duetica Lettering Arts Studio fonts, some more than others. I set the letters A,T, and C, using DT-Mandolyn, DT-Piper and DT-Tin Whistle. I used the software features to get just the right letter styles I wanted. I then opened the files in Photoshop and added background colors.
SUPPLIES:
Duetica Lettering Arts Studio Software
White cardstock
Cigar box (approx. 6 ½" x 4 ¾" x 4 7/8")
Assorted printed papers, three patterns (Graphic 45 Le Cirque Collection)
Tags (Graphic 45 Le Cirque Collection)
Adobe Photoshop or similar imaging software
Stazon Black ink
tamps, 1" , LeavUnity Ses All Over and Stripes.Dots.Hearts. (Ann Butler Faux Quilting Collection)
Sponge
White Pen (*Uni-ball Signo Gel Pen )
Fiber, embroidery floss
Wheat Grass (optional)
Premier Extreme adhesive (Kool Tak)
Ribbon doilies zigzag strip (Basic Grey Paper Ribbon)
Duetica Fonts: DT Mandolyn, DT Piper and DT Tin Whistle