It's Valentines Day, and love is in the air. A time to embrace that Special Someone in your life. Of course, many of us have pet names and special remembrances for the loves of our lives. Whether it's "Snuggles," or that sunset walk on the beach, there are terms of endearment or moments in your relationship that are unique to the two of you. That is certainly the case for the love affair I have had with my wife. Adrienne and I had been good friends and coworkers for many years. Until one fateful Saturday night. We were going out for dinner at the beach, and when she came to my door that afternoon, the sun shown behind her, and I heard God say that this is the woman I was going to marry. From that point on, I have always called her "the angel in my doorway," and 15 years later, we are still very much in love. In creating this scrapbook page I wanted to recapture that very special moment.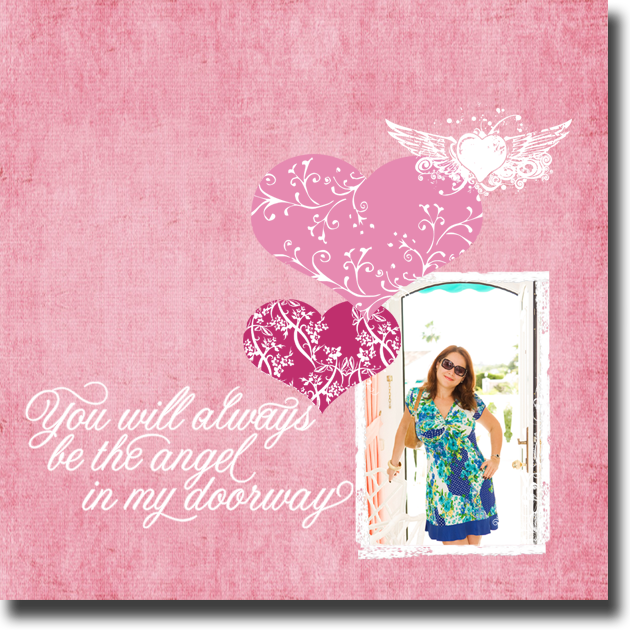 Of course, you can't find "angel in my doorway" on any pre-made stickers or stamps, but with the Duetica platform and the Duetica Mandolyn font, I was able to express my true love for her. I created a textured pink background in Photoshop and finished this digital page with some cute hearts from Katie Pertiet's collection. The photo is from ShutterStock images.
This Valentines Day, take a moment to tell that certain someone just how much they mean to you, and make it personal by saying it in your own words.
Happy Valentines Day,
Mark and Adrienne