Niki Meiners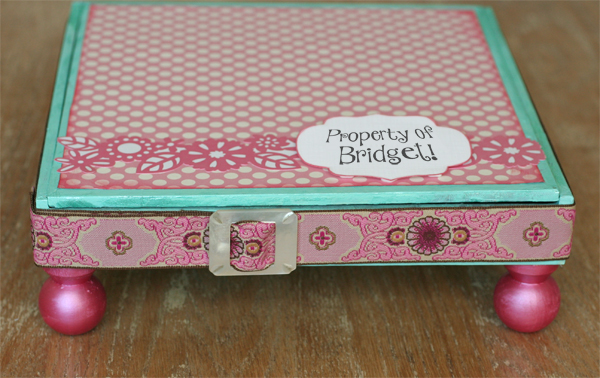 What once was a boring cigar box has now become a fun spring colored girls jewelry box.  Creating a personalized gift for a loved one does not have to cost a fortune.  When I spotted this cigar box I immediately thought it was the perfect size for a jewelry organizer. The recipient of this box is super girly and loves this fun whimsical color combination.
Paint cigar box and balls with Lumiere and let dry.  Reapply if needed and let dry.  Adhere balls on four corners as shown.  Adhere ribbon around box.  Make inserts and cover with cardstock.  I chose the Duetica Piper  for its whimsical appeal.  Print the Duetica Font in this case, the Duetica Piper font and die cut.
SUPPLIES
Foam board,
white and teal Cardstock,
Jacquard Lumiere Paint.
Wood Balls,
Vintage ribbon and buckle,
Spellbinders Nestabilities – Label 4,
Duetica.com Fonts
October Afternoon paper
Samantha Walker Stickers.