Candice Windham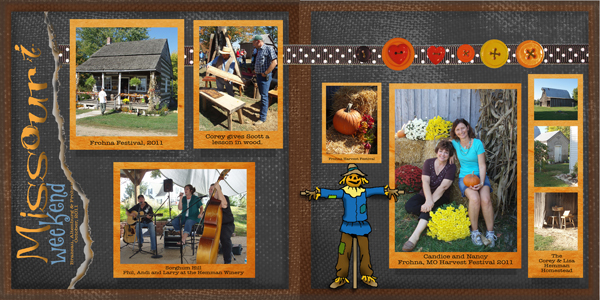 I love fall. Frost on the pumpkin. The World Series. Special times and holidays every month. This month we had a weekend getaway to the Frohna Harvest Festival in Missouri. We so enjoyed touring the homestead homes and listening to blue grass. For this digital 2 page spread, I used the Duetica 2011 promotional Fall kit. The burlap textures were perfect for that back country feeling, and all the included embellishments were simply darling. I used a combination of Duetica DT Tin Whistle and Piper fonts. These fonts are amazing. They have so many alternate letters to choose from, they make every title look like it was custom made, except you do it yourself in only a couple of minutes.
SUPPLIES:
Digital Kit: Fall kit from Duetica
Layout: Photoshop Elements
Duetica Font: DT Tin Whistle and DT Piper fonts.